FJ Industries has supplied components for the international automotive industry since the early 1970s
In 2007, FJ Industries established our own production plant in Ningbo, China. This strengthened our market position as a key supplier to manufacturers of exhaust and fuel rail systems, engine and transmissions systems, steering columns etc.
Today, all cast and machined components are manufactured in our plant in China which ensures that we are able to offer a very attractive price level without compromising quality.
A trusted and approved local network of investment casting and sand casting foundries enables FJ to supply components with complex geometries, in a variety of materials, including stainless steel, mild steel and in various cast iron grades.
The raw cast components are machined at our production plant in Ningbo, China. Raw cast components undergo comprehensive quality testing and close inspection before they are packed and shipped.
Our global organization makes it possible for us to provide inventory services to customers located worldwide.
If you are interested in finding out more about how FJ Industries can be your reliable and competitive partner within cast and machined components, call or e-mail us. We are more than happy to discuss your project and requirements. We make it our business to support your company's cost effectiveness.
Products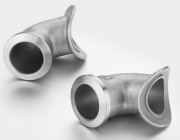 EGR systems
Complex shaped fittings and moulded flanges or bosses for exhaust gas recirculation systems are often produced in investment casting and high precision machining.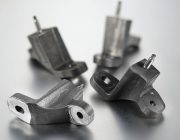 Engine
Cast and machined hangers or support brackets are used in various designs in engine systems for both commercial and passenger vehicles.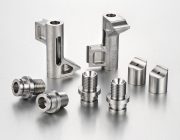 Fuel rail
Support brackets and fuel carrying components for fuel rail systems are produced by investment casting or cold drawing and high precision machining in 4 axis machining centers.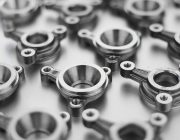 Fuel tanks
Fuel tanks for especially commercial vehicles are often fitted with different kinds of brackets, sockets, sensor bosses etc.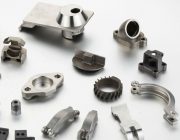 Industry (non automotive)
Many industrial products are using cast and machined components in steel, stainless steel or cast iron.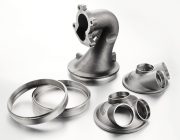 Inlet and outlet cast cones for DPF systems
At our plant in Ningbo, China we are producing a wide variety of cast inlet and outlet cones for clean air technology, like DPF-systems, for passenger and commercial vehicles as well as off road machinery.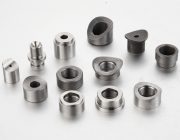 Sensor bosses
Complex shaped sensor bosses are produced by investment casting and machining whereas simpler sensor bosses are produced in our CNC turning machines with bar feeder, double spindles and rotary tools.
Transmission
FJ Industries is producing a variety of cast and machined components for transmission systems.